Sorry, this is a machine translation. Once the German text is finished we translate the German text by ourselves.
---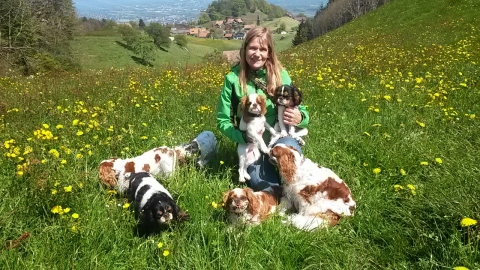 I have been breeding since 2005. King Charles Spaniel Blenheim and Tricolor colors. This is a breed enthusiasts whose goal is not the progeny of financial interest, but the selective breeding of healthy, beings Solid Dog. My goal is so healthy, happy, mentally strong and well socialized dogs to breed. In general, therefore only one litter falls in our year.
We, that is our family. Our dogs live with us in the house and have full family connection. Even the puppies learn in this manner familiar sounds of everyday life, driving, children, the elderly and disabled.
Our dogs require extensive cuddles and walks, they get it. On the walks they meet other conspecifics, learn to walk on the leash and allowed to let off steam. In particular, forest walks, we make the wind and weather, they love dearly.
All my dogs are heart-healthy and examined for patella luxation.